Yes, it's fabulous to get a professionally wrapped gift at

Nordies

...I get that.
But..., imo, it's equally fabulous to do it yourself!
And

House of 3's heart boxes

are so fab for packaging treats at this time of year!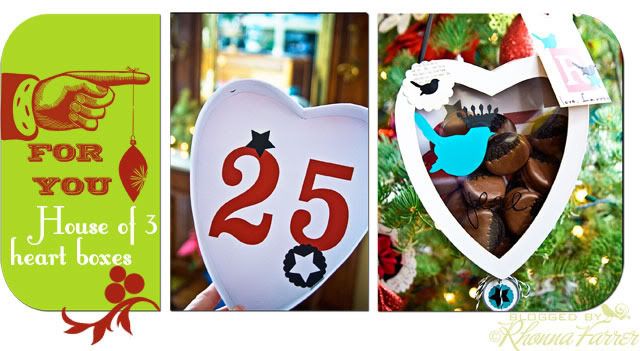 Supplies:




House of 3 Heart box




Silhouette

machine
vinyl


House of 3 Silhouette art


metal rimmed tag


manila tag


baker's twine
goodies

Steps:
1. Adhere the clear heart to the front of the box.
2. Cut out numbers or art in vinyl & put on the inside of the box. (shown above.

25

)
3. Fill box with chocolate covered oreos! mm!
4. Add vinyl embellishments to the clear acetate heart, tags & front of box.
5. Tie ribbons on, metal tag & manila tag.
Voila! You have a gorgeous neighbor gift! We delivered ours today & one of my sweet neighbors said, 'oh! You should sell these online!' *wink*

Here's another one I did!


Steps:
1. Print out

House of 3

background & brushes
2. Cut out the heart using the

FREE template


3. Adhere it to the back of the

heart box


4. Spray paint the outside of the box aqua
5. Add vinyl cut by your

Silhouette

, doilies, ribbon, tag
6. And FILL with goodies!



My kids call today:

Christmas Adam

. Tomorrow's Christmas Eve & so, today is our day to get all ready...delivering the neighbor gifts, last minute wrapping & listening to Christmas music!

Here's a cute little cash envie I did up for a dear friend of mine!...cash is grand...but, anytime you put

doilies

&

House of 3

art with it...it's even cuter! :)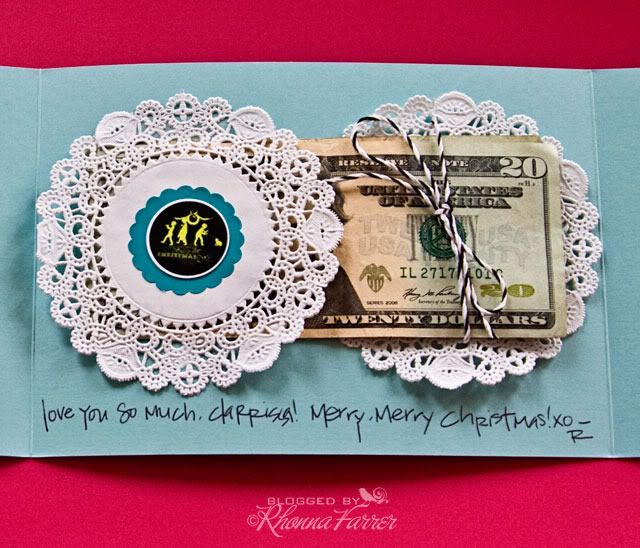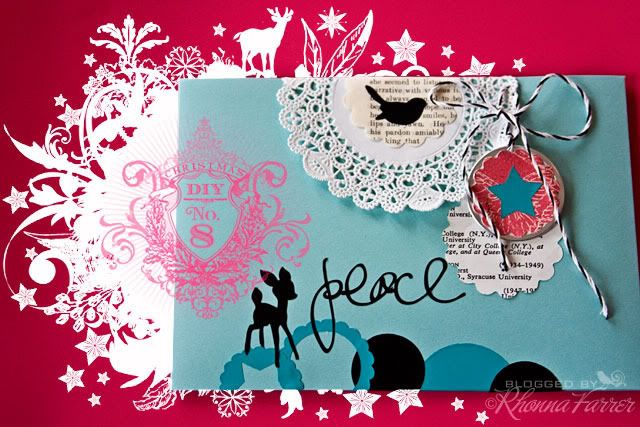 And, all you

Spark

girls may recognize these pastry boxes...I got about 500 of these little puppies & I use them for everything.
I love them.


Even at Christmas

.


Yes, the turquoise, black & pink

are

a little non-traditional, but i couldn't help myself. I made sure I gave them to neighbors that I thought might

appreciate

the Christmas funky-ness! *wink* love you guys!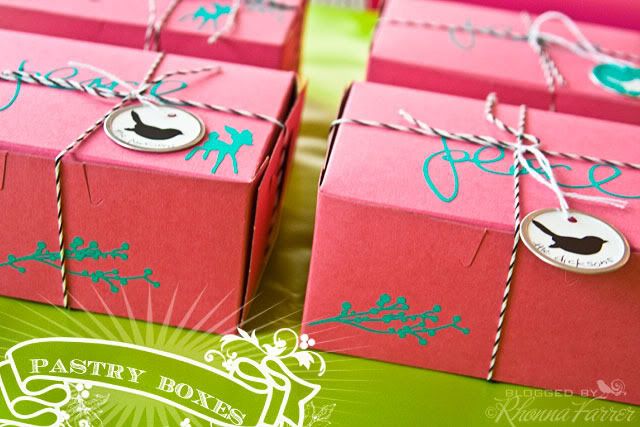 I love to see your do-it-yourself gift packaging!
Check out what

Amy

did

here

!
And

Kerri's

darling tags

here

.


Erin's

fabulous packaging

here

.


Nichol's

amazing boxes & cards...

wow

!

I'm embarrassed to say...I've seen more...& can't remember WHERE! arghh! So, please send me your links, K?
....can't wait to see it! I've sooo loved the ones you've shared with me using the

House of 3

stuff!
keep it coming!
Merry Christmas!
R