Seriously, I'm in LOVE with these flowers. You can make them any size, color, add any kind of bling or pearls/buttons/beads/findings to the center of them & they sass up ANY outfit!
Here's a little looksie at how to make these puppies.
Supplies needed:
1/2 yard of any kind of synthetic (like polyester) fabric. I love satin, chiffon or organza for these flowers.

candle. tea light. lighter. whatever you've got around.

scissors

circle template I used on the show. found HERE.

felt cut into a circle to back the flower

pins, clips, hair pins, bobby pins; anything to attach your flower to something.
optional: lil' lovelies to put in the middle of your flowers.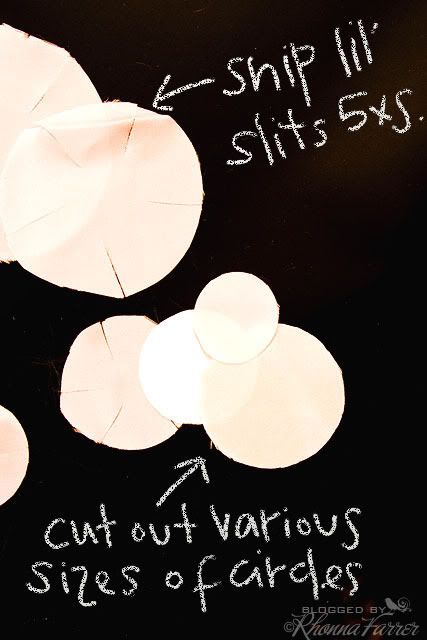 1. Print & cut out on thick cardstock the Circle Template found HERE. Cut out fabric in the various sized circles. Remember: the more layers you have, the fuller your flower.
2. Snip on the dotted line to create the

petals. Note: Depending on the fabric, you may want to snip little notches off the corners of your petals. Some fabrics will be fine & will melt in a very natural looking petal. But, some fabrics don't like that extra bit o' mass there & will burn & get all wonky.
3. Fold over to expose 1 petal at a time & with tweezers, (or if you're really brave; your fingers) melt about 1 inch away from flame. NOT too close or you'll burn it! But, watch out: each fabric will melt differently. i.e. organza & chiffon melt VERY fast.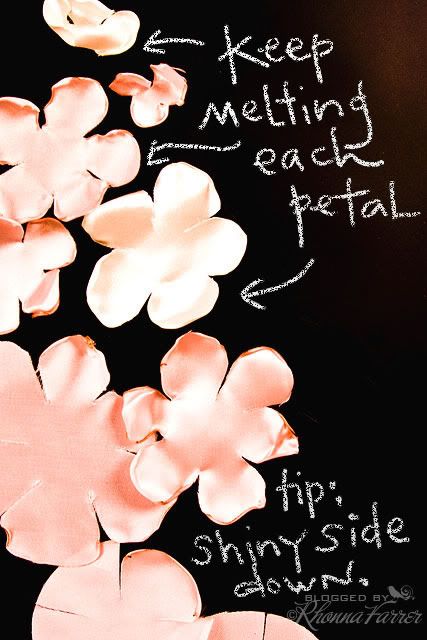 4. Layer from large to small & glue or stitch each layer to one another until you have a fabulously gorgeous flower.
**You can layer various colors or textures like organza & chiffon with the silk for a very cool effect.
5. Add the smashing *bling* to the center of you flower.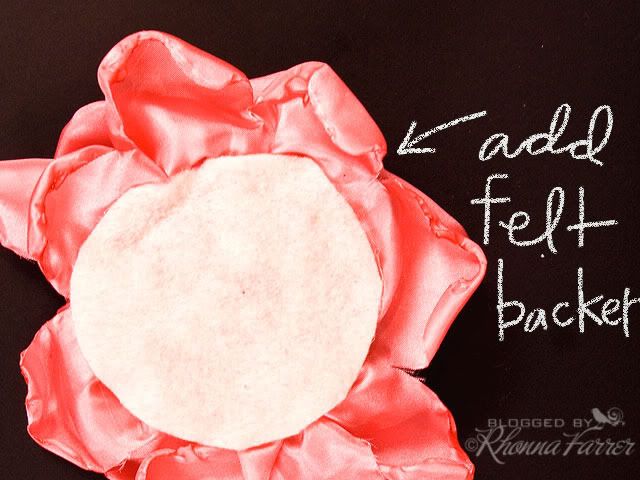 6. Cut out a felt circle & adhere to the back of your flower.
7. Add a pin, clip or any other 'attachment' for your flower.