These 100 Creativity Exercises are tried & true ....by me. 12+ years in the making & something I use every single day as a creative person.
I have used them faithfully for the past 5 years, but have been fine tuning these ever since I was got my degree in Art Education *uh*hum*

many

years ago. At times,
it seemed like I was in a rut more often than not. And as a designer, I just couldn't afford it. So I started these exercises.

every day

.

They have become a habit for me & I really do it out of habit now. It's part of my daily routine. And guess what?
It helps me so much
. I have ideas coming out of my head faster than I can execute them. I'm overflowing & I haven't been in a rut for a long time! (knock on wood)

I had so many people asking me HOW do you stay creative? I can only cut & paste this info so much...LOL. So, I decided to share my exercises with anyone that
needs
them. And it's perfect for anyone. anywhere. all over the globe! A workshop for you in your home!

If you already have a great creative mojo going & you are comfortable with your process & don't get into ruts..this isn't for you.

But, if you feel like you need that little
creative boost
I've got 100 ways for you to kick it up a notch.
The key is: consistency
. Just like any exercise program, if you do it consistently you will see results. I can't tell you how long it will take to see the results because all results vary *wink* but, it
will
work!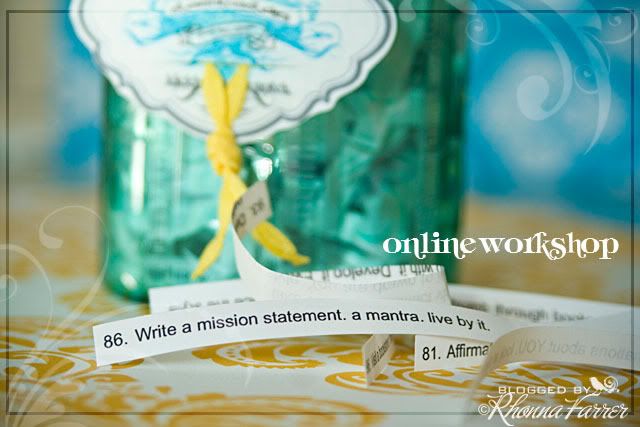 To take this 'pace yourself' workshop, go to Rhonna Designs Workshops to purchase & download the video & class kit.
Basically, it's everything you need to take this creativity workshop...except the jar!
Your creative experience starts here.